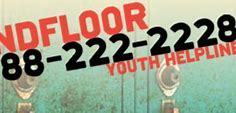 2nd FLOOR YOUTH HELPLINE
Kevin Farrell
Thursday, May 07, 2020
A message from the 2NDFLOOR Youth Helpline:
"All of us at 2NDFLOOR are hoping this letter finds you physically healthy. Mentally, even the most resilient of us are being thoroughly challenged during this epidemic. We know this stress, isolation and confusion can impact all of us and can be particularly difficult for adolescents and young adults. Many youth in NJ are missing the in-person interactions with counselors and teachers who provide much needed emotional support during regular school days.

At 2NDFLOOR Youth Helpline, we are fully operational and are here to offer support to NJ youth by text/phone and message boards 24 hours a day. The majority of our recent contacts have been connected to stress and worries about the COVID 19 virus and functioning through this period. Our staff is prepared and able to offer support and resources specific to the virus and any other issue or concern that may be presented.

It is so important during this time that NJ youth ages 10-24 are reminded about 2NDFLOOR Youth Helpline as a resource."